You know those decisions in life that make you look back and think to yourself,
If only I had known more… Or even,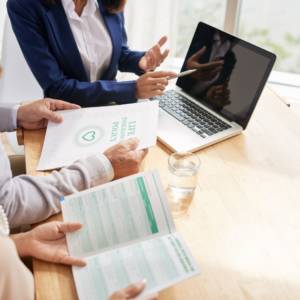 What in the world was I thinking?
We all have one. While it's not as scandalous as getting a regrettable tattoo, life insurance is a big decision that, with a little research, doesn't have to be one we regret.
In fact, 65% of consumers with life insurance say they are able to enjoy life more know
ing their loved ones are financially protected with life insurance (2019 Insure Your Love Consumer Survey, Life Happens).
The key is selecting the best life insurance for your situation. You will likely end up choosing between Whole Life insurance vs Term Life insurance.
Whole Life Insurance
Whole Life Insurance: provides permanent coverage up to a specified age with access to a guaranteed cash value.
Whole Life insurance is often called "permanent" because you're covered up to a specified age, usually 100 years and up for newer policies. If you live beyond this age, your coverage will end but you will receive the cash value of your policy.
Cash Value
Whole Life policies build cash value from your premium payments. Part of your payment covers your cost of insurance, and the rest goes towards building your cash value. Your cash value builds at the guaranteed interest rate assigned when you purchase your policy.
As the cash value builds, some customers use it as a loan to pay for college, homes, etc. This loan doesn't require you to pay back the principle but will decrease the death benefit of your policy. Keep in mind you will be charged interest payments on the loan.
Advantages
-A Whole Life policy accumulates cash value
-You have coverage up to the specified age, so you don't need to worry about your insurability once your policy is active
-Your policy can be adjusted with surrender and nonforfeiture options, such as:
-Collect your cash value (minus any outstanding loans) and end your coverage
-Convert your policy into an "Extended Term policy" (provides same death benefit for the specified term with no additional payments)
-Converting your policy to a "Reduced Paid Up" Whole Life policy (lowers the amount of your death benefit, but provides coverage until the specified age with no additional payments)
-Customize your policy with riders, which are additional features on a policy
Payments
You will either make equal premium payments for the duration of the policy, or you can choose an accelerated option to pay your policy off sooner – such as Ten Pay and Single Pay options. These will allow you to pay off the policy in either one (Single Pay) or 10 years of payments (Ten Pay). Once paid, it will offer coverage until the specified age.
Ideal for Adults Near Retirement
Retiring adults often choose Whole Life because it offers permanent coverage. By comparison, Term policies have an end date that may occur at a point in the customer's life when they aren't as insurable. So, they opt for Whole Life, permanent coverage.
Term Life Insurance
Term Life Insurance: provides coverage for a stated period of time. There is no cash value for term life policies
When you buy a Term Life insurance policy, you choose the amount of time you want life insurance coverage. 10, 20 and 30 years are common options. When the term you select is over you will no longer have coverage unless you choose to continue with costly Yearly Renewable Term rates.
Cash Value
There is no cash value on a Term Policy.
Advantages
It will likely cover your temporary needs, like your 30-year mortgage payments and your income
Provides the most coverage for the least amount of money
You can convert some Term Life insurance policies into a Whole Life policy during the term without another evaluation of your insurability
Your policy is customizable through optional riders, which are like additional features for your coverage
Payments
You will make equal premium payments for the duration of the policy. For example, if you choose a 20-year term you will make payments for 20 years. At the end of the term, your coverage options are limited and no cash value is given.
Ideal for Young Families
Since young families typically have debt and dependents, their priority is making sure these are covered rather than legacy planning. Also, since they are younger they are more insurable and can purchase insurance at a better, cheaper rate.
Many insurance agents may recommend young families consider purchasing both a Term and a Whole Life policy; a Term policy to cover the majority of their debt and a small, Whole Life policy to cover their final expenses and legacy planning.
This combination can be advantageous because the Term policy will meet their immediate needs and the Whole Life policy will serve as a safeguard for their insurability.
For example, if you have a 30-year term policy and during those 30 years you're diagnosed with diabetes, your insurability drastically changes. When your 30-year Term Life policy is over, you may not be able to purchase another term of insurance. But, if you had a small Whole Life policy, you would have coverage until the specified age regardless of the changes to your insurability.
Overall, your best course of action is to secure your life insurance sooner rather than later. This is a great way to ensure your insurability at the best rates. The best life insurance is the insurance in force at the time of claim.
Disclaimer: The analysis of coverage is in general terms and is superseded in all respects by the Insuring Agreements, Endorsements, Exclusions, Terms and Conditions of the Policy. Some of the coverage mentioned in this material may not be applicable in all states or may have to be modified to conform to applicable state law. Some coverages may have been eliminated or modified since the publishing of this material. Please check with your local Independent Auto-Owners Insurance Agent for details.
Read the original article here.